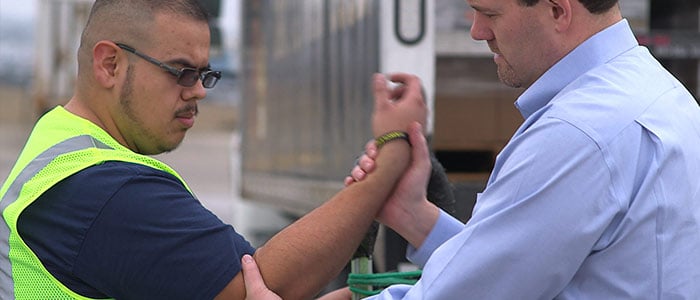 Musculoskeletal disorders (MSDs) are the most common work-related injury today, according to the U.S. Bureau of Labor Statistics. "More than 600,000 workers have MSDs, resulting in days away from work each year," cites a U.S. News Health and Safety report1. That translates into an estimated cost of "$213 billion in annual treatment, care, and lost wages."2
Organizations can stem this problem by employing the following four strategies to create more effective and ongoing workplace stretching programs. As part of a comprehensive and multi-factored approach toward a healthier, safer work environment, stretching programs do work.
Assess Organizational Needs and Establish a Comprehensive, Multi-factored Program
A vital first step is assessing the current state of the organization in order to establish a stretching program that will succeed over time.


Get Buy-In of Management and Employees
By making a solid business case for workplace safety and best practices, both managers and employees can feel invested in a stretching program.


Train and Implement Program Leaders
Proper training and implementation of the stretching program is integral to its ongoing success. Well-trained managers, program leaders and employees, according to OSHA, "are aware of ergonomics and its benefits, become informed about ergonomics related concerns in the workplace, and understand the importance of reporting early symptoms of MSDs."3


Consistently Evaluate and Refine the Program
An effective stretching program needs to be consistently evaluated and refined as workplace conditions and systems changes become necessary. As da Costa and Vieria (2008) point out: "Primary efforts should focus on adaptation of the work characteristics to the workers' abilities and not the adaptation of the workers to the job demands. Stretches may alleviate the problem, but they do not address the causes."4
In the end, employee stretching programs can never alone replace a comprehensive and multi-factored ergonomic program. By preventing and decreasing injuries and accidents in the workplace, new opportunities open up to innovate, conserve resources, and increase the organization's bottom line.
References and links:
(1) U.S. News Health and Safety: http://www.ranknfile-ue.org/h&s1299.html
(2) U.S. Bone and Joint Initiative (USBJI) (on Science Daily): https://www.sciencedaily.com/releases/2016/03/160301114116.htm
(3) OSHA link: https://www.osha.gov/SLTC/ergonomics/
(4) Da Costa and Vieria, Stretching to Reduce Work-Related MSDs: A Systematic Review, 2008) [Paper supplied by John Groves]