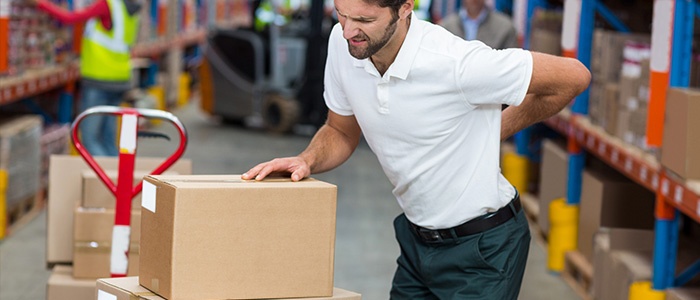 They're work-related musculoskeletal disorders, and they can cost your workers and your bottom line plenty: in pain, suffering, lost time, product defects, hospitalizations, workers' compensation claims, and more. The Bureau of Labor Statistics reported that in 2013 musculoskeletal disorders accounted for a third of all cases of injury and illness among US workers.1
Ergonomics, focused on improving the relationship between the human body and industrial processes, is a major way of reducing them.
The Major WMSDs, Symptoms, and Typical Causes2
Tendonitis (pain, weakness, swelling, burning sensation in the affected area)
Repetitive wrist motions

Repetitive shoulder motions

Sustained hyperextension of arms

Prolonged load on shoulders

Elbow Tendonitis (pain, weakness, swelling, burning sensation)
Repeated or forceful rotation of the forearm and bending of the wrist at the same time

Carpal Tunnel Syndrome (pain, numbness, tingling, burning sensation)


DeQuervain's Disease (pain at the base of the thumb)

Repetitive hand twisting and forceful gripping

Thoracic Outlet Syndrome (pain, numbness, swelling of the hands)

Prolonged shoulder flexion

Extending arms above shoulder height

Carrying loads on the shoulder

Tension Neck Syndrome (pain)

Prolonged restricted posture
The Canadian Centre for Occupational Health and Safety notes that "WMSDs arise from arm and hand movements such as bending, straightening, gripping, holding, twisting, clenching and reaching. These common movements are not particularly harmful in the ordinary activities of daily life. What makes them hazardous in work situations is the continual repetition, often in a forceful manner, and most of all, the speed of the movements and the lack of time for recovery between them."
If you're employing Lean Six Sigma methods, you're seeking efficiencies. But if you're "too lean" —that is, if you aren't taking into account the toll that repetitive tasks, time constraints, and poorly designed work spaces may be taking on your people—you may be exposing them to WMSD risks.
Check out our e-book "Lean Manufacturing and Ergonomics: Why They Belong Together," and contact us for help understanding and implementing ergonomics in tandem with lean manufacturing principles (aka Lean Six Sigma) and other approaches.



References:
1. US Department of Labor/Occupational Safety and Health Administration, "Ergonomics" https://www.osha.gov/SLTC/ergonomics/
2. Adapted from "Work-Related Musculoskeletal Disorders," Canadian Centre for Occupational Health and Safety https://www.ccohs.ca/oshanswers/diseases/rmirsi.html