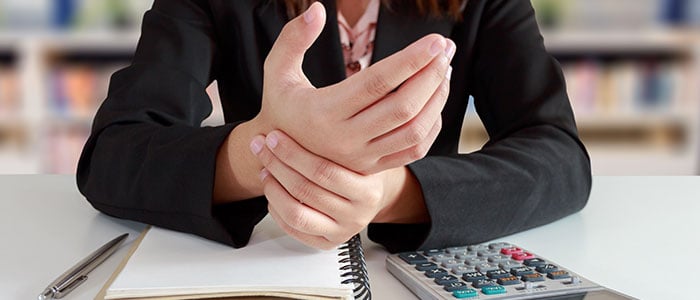 As the new millennium approached, employees of Blue Cross Blue Shield Rhode Island (BCBSRI)
tasked with providing health insurance for others were undergoing the physical stresses of their own office work—mainly carpal tunnel and other repetitive strain injuries.
In 1999, OSHA reports, BCBSRI had a very limited ergonomics program—and eight workers with compensation cases related to carpal tunnel, costing the organization 345 lost workdays. The company's Assistant Vice-President of Engineering/Administrative Services realized that BCBSRI needed a more robust ergonomics regime.
She conceived it as an holistic venture, involving all of the organization's divisions. Under the new plan:
Building Services moved and adjusted furniture equipment.


Data Communications re-evaluated BCBSRI's computers and considered others on the market.

Facilities Management and external vendors assessed the ergonomics of existing office furniture
and considered ergonomically sound new purchases.

Office Services delivered ergonomic supplies such as foot rests and elbow cushions.
In addition, an Optimal Returns Case Manager reviewed return-to-work cases and the ergonomic impact of new measures, and collaborated on ergonomic issues with the company's Occupational Health Nurse and its ergonomics team.
BCBSRI conducted ergonomic studies of headsets and computer mice, set up brown-bag lunches and a discussion session with management to disseminate ergonomic awareness, developed an ergonomics intranet site and brochure, and did many other things to make sure that ergonomics became top-of-mind in the organization.
The result was that between 1999 and 2002, lost workdays declined 75 percent, from 345 to 89.
"Ergonomics is an important issue to business because the injuries are expensive and unnecessary,"
says OSHA in its report on BCBSRI. As the Rhode Island initiative proves, they're also reducible, if an organization is willing to make ergonomics a priority.
Contact us for more on workplace ergonomics and how you can implement it, and check out our
eBook "Beyond Manufacturing: Ergonomics Is for Every Industry."
Register for the free webinar, Physical Demand Analysis/Post Offer, coming up on Thursday, July 26th 1:00-2:00PM CST.

---