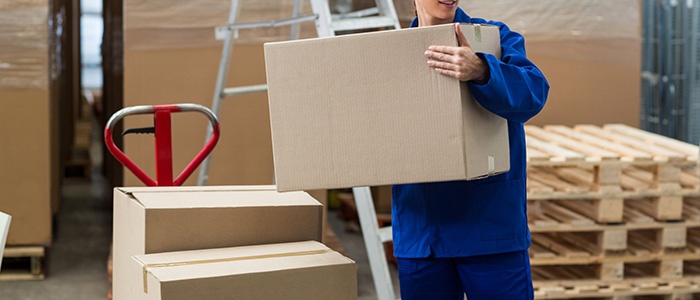 In leveraging the benefits of ergonomics in your workplace—that is, adjusting work areas, equipment, and procedures to avoid the injuries and physical strains that can cost you money, efficiency, and productivity—there's a lot to pay attention to. Some ergonomic problems in manual material handling are pretty obvious: if workers are struggling to lift too-heavy containers, for example, you probably need to make changes in load size/weight or employ mechanical aids like scissors lifts or powered stackers.
But there are other, less glaring signs of potential ergonomic trouble that are easier to overlook. Here are five, chosen more or less at random.
1) Materials are stored on the floor. Sure, the floor is an obvious place to put heavy objects. But when that means employees have to bend down to pick them up, stress and strain can result. Keeping lifts within the body's "power zone" (above the knees, below the shoulders, and close to the body) can reduce the likelihood of MSDs—so elevating the storage of heavy objects to within the power zone makes ergonomic sense.
2) Handling requires a "pinch grip." Picking up certain objects may require a "pinch grip"—grasping with the thumb and the tips of the other fingers. "Power grips," on the other hand, involve grasping by wrapping all the fingers around the object or its handle. Power grips have been shown to be 75% stronger than pinch grips, so providing "power grip" handles, or carriers with handles, makes for secure lifting and carrying.
3) Handles are too thin. A thin handle on a bucket or pail will require grip that's too tight for comfort, or else a loosening of the grip that puts downward pressure on the fingers. A handle that's 2-3 centimeters thick allows hand muscles to comfortably support the grip. A clamp-on handle or padding can be added to a too-thin handle.
4) Employees' shoes are slippery. Encouraging workers to wear shoes that give them good traction on workspace floors can head off slips, strains, and falls.
5) Floor surfaces are uneven, sloping, cracked, or slippery. Problematic floor surfaces can cause employees to lose their footing, especially when carrying heavy loads, and can make pushing or pulling wheeled transports more difficult.
For more on the ergonomics of material handling, check out our e-book, "Manual Material Handling: Best Practices Matter."