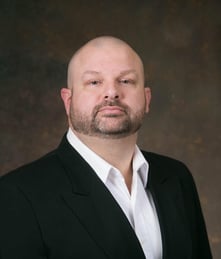 Dr. James Rethaber, Ph.D., CPE, is currently the Director of Ergonomics at Fit For Work, LLC. Dr. Rethaber has worked in the fields of orthopedic sports medicine, biomechanics, and ergonomics for over 15 years. He is responsible for analyzing ergonomic-related performance issues, as well as designing, developing, implementing, and evaluating training and non-training controls in order to mitigate ergonomic risk.
Dr. Rethaber has completed nearly 5,000 physical demands analyses, as well as serving as an expert witness in work-related, personal injury cases. He is also responsible for developing engineering and non-engineering initiatives that reduce injury while also improving productivity (lean ergonomics). As one of only 725 board-certified professional ergonomists in North America, Dr. Rethaber combines human performance technology and ergonomic methodologies to reduce and prevent work-related musculoskeletal disorders while also maximizing productivity and minimizing expense.
Dr. Rethaber is a member of the Industry Advisory Board at the Ingram School of Engineering at Texas State University in San Marcos, TX, as well as a member of the Industry Advisory Board at the Environmental & Occupational Health/Ergonomics Center at Texas A&M University in College Station, TX.
He is a published researcher and a regional and national speaker on the subjects of ergonomics and injury prevention. On Tuesday, March 28, 2017, Dr. Rethaber will give a presentation titled "The Physical Demands Analysis and Post Offer Testing" at the Applied Ergonomics Conference 2017 (AEC 2017) in Orlando, FL.

Fit For Work is a privately held Occupational and Industrial Health practice developed around a model of prevention and early intervention. Founded in 1998, Fit For Work has continuously sought to provide large and small employers alike with a non-traditional service model. This model combines a progressive approach to injury prevention and treatment based on an underlying and proven principle that putting the right worker in the right place in as safe a manner as possible results in decreased costs and injuries, as well as increased profitability and productivity.