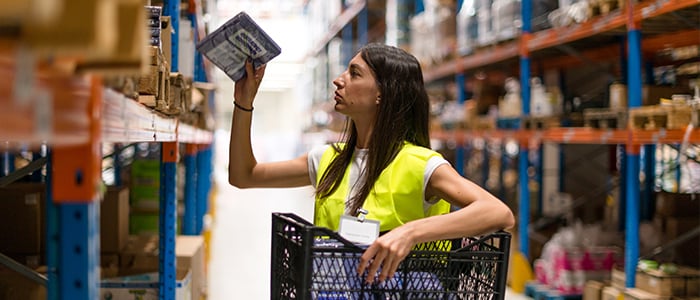 When it comes to designing production processes, engineers are key players. But if they focus on tools, machines, materials, and calculations alone, without considering the human factor, the results may only see success in the short-term due to potential injury to the human operators, thereby negating any initial success. Adding a specialist in ergonomics—the science of interaction among humans and other elements of a system—to a planning team means that the human factor gets taken into consideration, and dangerous and costly wear and tear on the body is reduced.
In an interview with ISE magazine, James Rethaber, PhD, CPE, Director of Ergonomics at Fit For Work, cites the example of a warehouse company that, thanks to the input of an ergonomist and the multidisciplinary team, rethought and redesigned a cart handle. It was a small change with a big result.1
The company added a Certified Professional Ergonomist (CPE) to a team tasked with redesigning a warehouse cart used in locations around the world for transporting snack products. The CPE brought to bear an analytical tool familiar in ergonomics: anthropometry, the scientific study of the measurements and proportions of the human body.
Six Feet or Else
The CPE discovered that the existing handles were fixed in place at a height that only allowed workers six feet tall or taller to push or pull the carts without taking up an awkward and stressful posture and increasing the risk of musculoskeletal disorders (MSDs).
For the new carts, an adjustable "universal handle" was created that, in anthropometric terms, could accommodate human sizes from the fifth percentile to the 95th—that is from people either very short or very tall to those of average height. (The handle was retrofitted to more than 50,000 existing
carts too.)
The result? Lots of positive feedback from employees and a significant reduction in MSDs.
It was proof, says Rethaber in the article, that, "You have to know the job. Not just the throughput,
the materials, the time studies. …You need to determine a baseline of the physical demands in order
to ensure that when you're designing your process improvement or continuous improvement
initiatives that you're not actually…sacrificing the human factor to benefit productivity and
performance improvement."
For more on how ergonomics can benefit your workforce, your production process—and your bottom line—check out our eBook "Ergonomics: Prevention Through Design," and contact us here.
1. PDF: David Brandt, "Case Study/Solutions in Practice: Know the Job; Save the Changes," ISE Magazine, November 2016.
---