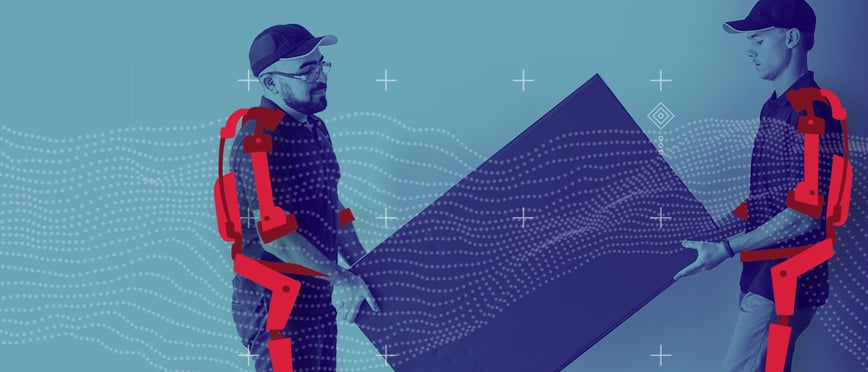 As technology continues to progress over the next decade, more exoskeletons (wearable devices that work in tandem with the worker) will continue to emerge in the market for industries including warehousing, automotive, construction, aerospace, and agriculture in an effort to transform workers into "super workers."
As technology continues to progress over the next decade, more exoskeletons (wearable devices that work in tandem with the worker) will continue to emerge in the market for industries including warehousing, automotive, construction, aerospace, and agriculture in an effort to transform workers into "super workers."
The overall intent for wearable exoskeletons is that they will not only increase employee productivity but also significantly reduce workplace injury. However, as an expert team that relies heavily on data when creating solutions to reduce workplace injury for companies nationwide, we have yet to obtain valid evidence that supports these notions associated with the implementation of passive exoskeletons in the workplace.
Questions to Consider Prior to Investing In Wearable Exoskeletons:
For employers determining whether they should invest in passive exoskeletons or not, we suggest reevaluating all reports and data as it can sometimes be misleading. For example, one commercially available exoskeleton reported it could relieve stress on the arms of workers. Upon further investigation, researchers proved that although the passive exoskeleton did relieve stress on the arms of workers, it increased stress on their back region by more than 50 percent.
We have compiled a list of questions for employers to consider prior to investing in passive exoskeletons as an effort to reduce workplace injury:
Is the exoskeleton transferring forces from one body part to another?
Will the investment in exoskeletons for workers provide a positive ROI over the next 12 months?
Are exoskeletons an effective, long-term, sustainable solution for the issue currently in the work environment?
Will the employees use the exoskeletons?
Will implementing exoskeletons negatively impact worker morale?
Will an exoskeleton cause any user injuries, such as bruising, fatigue, or over-exertion, on workers over time?
Will using exoskeletons increase the risk of injury due to increasing the employee's "footprint"; i.e. how much space they occupy on the production floor, warehouse area, etc.?
What is the best protocol and cost of maintaining the exoskeleton?
Invest in Evidence-Based Solutions to Reduce Workplace Injury:
At Fit For Work, we stand by the fact that the effectiveness and safety of passive exoskeletons in the work environment remain unsupported by data. That said, employers should think twice before investing in exoskeletons as a standalone solution to improve worker productivity or reduce workplace injury.
If you are an employer looking for evidence-based solutions to reduce workplace injury and improve employee productivity, please contact our team today.