Safety programs can be difficult and time-consuming to implement, and some employers may find themselves asking if the reward is worth the commitment. In this infographic, we've laid out some of the benefits you can expect to gain from having an incentive program in place for your employees.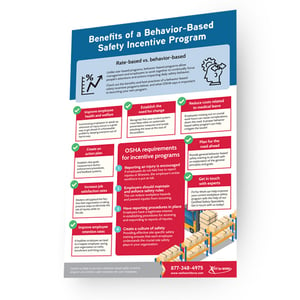 Also included are the OSHA requirements for safety incentive programs, which are important to keep in the forefront of your mind when planning out your incentive program. Armed with this information, you can confidently implement a safety incentive program in your workplace, and create an environment of safety that fosters employee satisfaction and retention.
Download the infographic now to see how a behavior-based safety incentive program can help your company.