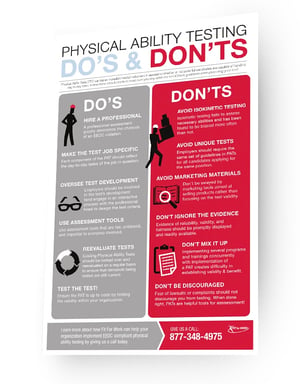 Ensuring each candidate for a job is physically up
to the task is on the mind of hiring managers everywhere. Physical Ability Testing (PAT) is the single best way to make sure this happens. Without it, you're gambling with your schedule, your commitments, and your money.
However, PATs have to be completed in a fair and comprehensive manner, or else you run the risk of violating guidelines set forth by the Equal Employment Opportunity Commission. Follow this list of Physical Ability Testing Do's & Don'ts and be on your way to providing a fair test for everyone.
Download the infographic and get started on providing your team with the proper route to
a fair Physical Ability Test.
Register for our free webinar,
Voluntary Protection Plan (VPP), coming up
Friday, Sept 14th 1:00-2:00PM CST.
---