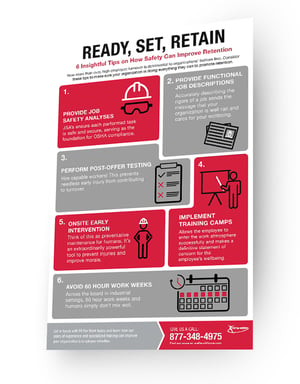 Employee retention—making sure you hold on to good employees—is one of the most significant but most easily overlooked ways to make, and keep, your organization profitable. When the replacement cost of a blue collar employee is an average of 20% of their annual compensation, it makes sense to look for ways to improve your retention rates.
Now more than ever, high employee turnover is detrimental to organizations' bottom line. Consider these tips to make sure your organization is doing everything they can to promote retention.
Download our infographic, "Ready, Set, Retain", for insightful tips on how safety can help improve your organization's rate of employee retention.


---