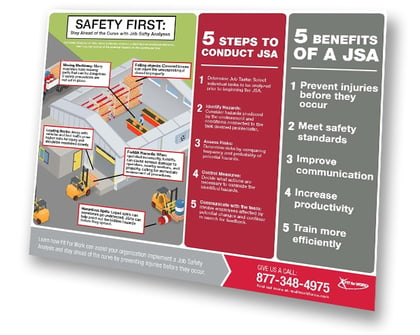 Compliance with OSHA rules about workplace safety requires employers to know exactly what potential hazards their hourly workers may be exposed to—at every stage of every task they perform. OSHA requires employers to identify hazards, prevent them if they can, and control them if they can't.
The JSA is a systematic analysis of every task, and sub-task, that your hourly employees perform in doing their jobs and the physical circumstances in which they perform them.
But it's also the single most important
diagnostic tool you have for staying in
compliance with OSHA rules.
Download our latest infographic to see if
you can spot all of the potential hazards on
the warehouse floor and learn what a
Job Safety Analysis can do for your organization!


---