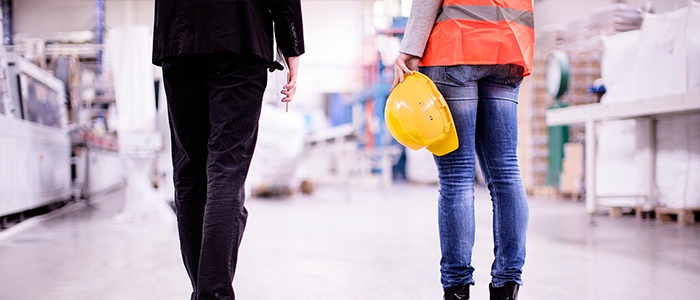 When considering OSHA regulations, it's helpful to know the top 10 standards for compliance. Here's a quick cheat sheet that provides a fast overview:
1926.501 – Fall Protection
The employer shall determine if the walking/working surfaces on which its employees are to work have the strength and structural integrity to support employees safely.
1910.1200 – Hazard Communication
Employers shall develop, implement, and maintain at each workplace, a written hazard communication program that at least describes chemical inventories, safety data sheets, labels and other forms of warning and employee information and training will be met.
1926.451 – Scaffolding
Protect each employee more than ten feet above a lower level from falls by guardrails or a fall arrest system. Ensure the height of the top rail for scaffolds manufactured and placed in service after January 1, 2000, is between 38 and 45 inches. Note: there are many other aspects to this regulation, so be sure to check OSHA's website for more information.
1910.134 – Respiratory Protection
The employer shall provide the respirators that are applicable and suitable for the purpose intended. The employer shall be responsible for the establishment and maintenance of a respiratory protection program.
1910.147 – Lockout/Tagout
The employer shall establish a program consisting of energy control procedures, employee training, and periodic inspections to ensure that before any employee performs any servicing or maintenance on a machine or equipment where the unexpected energizing, start up, or release of stored energy could occur and cause injury, the machine or equipment shall be isolated from the energy source, and rendered inoperative.
1910.178 – Powered Industrial Trucks
General requirements include observing capacity ratings, training all operators, re-evaluating operators at least once every three years, and providing refresher training when operators are observed driving unsafely.
1926.1053 – Ladders
A stairway or ladder shall be provided at all personnel points of access where there is a break in elevation of 19 inches (48 cm) or more, and no ramp, runway, sloped embankment, or personnel hoist is provided. Ladder requirements are exhaustive and this is a short list of the general requirements.
1910.305 – Electrical, Wiring Methods
Metal raceways, cable trays, cable armor, cable sheath, enclosures, frames, fittings, and other metal noncurrent-carrying parts that are to serve as grounding conductors, with or without the use of supplementary equipment grounding conductors, shall be effectively bonded where necessary to ensure electrical continuity and the capacity to conduct safely any fault current likely to be imposed on them.
1910.212 – Machine Guarding
One or more methods of machine guarding shall be provided to protect the operator and other employees in the machine area from hazards such as those created by point of operation, ingoing nip points, rotating parts, flying chips and sparks.
1910.303 – Electrical, General Requirements
OSHA requires employers to provide employees with a workplace that is free of hazards. The steps to do so can include: Performing hazard assessments to identify electrical problem areas, taking corrective actions, and providing workers with appropriate training and personal protective equipment.
Lockout/Tagout, Electrical, Wiring Methods and Electrical, General Requirements are all tied together since having an effective electrical safety plan starts with a detailed assessment.
These regulations are among OSHA's top 10 cited, and have a higher rate for serious hazard exposure to employees and/or willful violations carrying OSHA's highest potential fines of $12,471 per "Serious" violation to $127,709 per "Willful" or "Repeat" violation.
Each of these standards has recommendations that should be explored if you're looking to boost your compliance. You can find them on the OSHA Law & Regulations page.