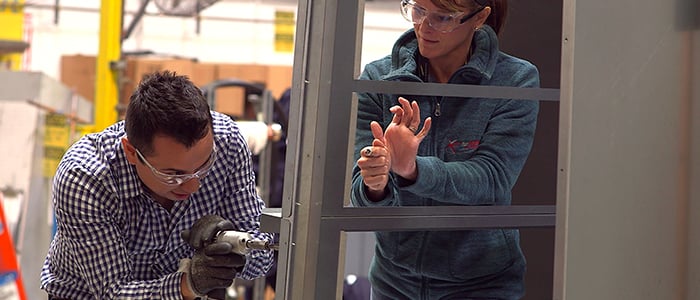 When you work with a Certified Professional Ergonomist (CPE), you're getting the benefit of his or her careful training in "the profession that applies theory, principles, data and methods to design in order to optimize human well-being and overall system performance,"1 as the International Ergonomics Association defines the field. Acquiring the proper CPE credentials doesn't come easy. According to the Bellingham, Washington–based Board of Certification in Professional Ergonomics (BCPE), certification as a CPE requires successful completion of coursework at an accredited institution of higher learning in the Basic Principles of ergonomics; its Core Background, Core Methodology, and Application; and in Professional Issues.2 This level of accreditation makes these professionals rare to come across, yet the work they undertake is undoubtedly beneficial to those they serve.
Here's a look of how the work breaks down:
Basic Principles: The theory of ergonomics. How systems (human, social, and technical) operate; how design (of products, production processes, etc.) works in relationship to ergonomics.
Core Background: Vital knowledge needed to practice ergonomics. Anthropometry (the measurement of human bodies), physiology, psychology. How humans interact with their physical environment, their social world, and the work environment.
Core Methodology: Learning to put ergonomic analysis into practice. How to research and investigate ergonomic issues in general and report on them, including the use of statistics; how to investigate work processes and interpret the results; understanding techniques and procedures of the design process; usability: understanding the techniques and procedures used in assessing the usability of products, systems, and processes.
Application: The "nitty-gritty" of ergonomics: a deep dive into the subject. How to analyze and design the interfaces between humans and machines, humans and the work environment, humans and software, humans and the jobs they do, and humans and the organizations in which they work.
Professional Issues: In the words of the BCPE, "Legislation, economics, return on investment, ethics, marketing, [the] ergonomist's role in organizations, society, and different interest groups," are all example topics aimed at understanding the impact of ergonomics and human factors on people's lives.
For more on what ergonomists do and what an ergonomics program can do for your organization, and to see the details of our affordable and efficient Subscription-Based Ergonomics plan, download our eBook "Ergonomics: It's Not a One-Time Thing," or contact us.
---