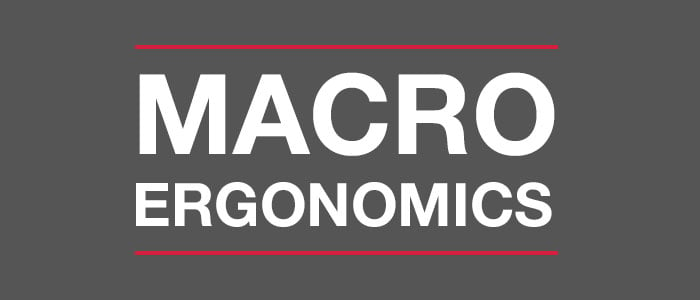 Macroergonomics, as best-defined by the late Dr. Hal Hendrick, is "a top-down socio-technical systems approach to work system design, and the carry through to the design of jobs, hardware and software. Though conceptually top-down, in actual practice it tends to be bottom up, middle out and (also) top down in practice, so that it hits all levels of the organization in the process of doing a macroergonomic evaluation."
A macroergonomic program is a more proactive, holistic approach to preventing workplace injuries—one that, because of its long-range nature, can be more impactful and allow for a more sustained buy-in from all stakeholders.
Macroergonomics looks closely at all components in the workplace; how all individual functions work—or don't work—together.
As the "father of macroergonomics," Hendrick was known for seeing the bigger picture. "Macroergonomics," states Andrew S. Imada, "is the result of [Hendrick's] ability to merge human factors/ergonomics with industrial/organizational psychology and systems theory into a new way of thinking and talking about complete solutions."
The study of macroergonomics emerged from the rise of technology in the early 1980s. "It was clear that this new technology was going to profoundly change the nature of work over the next few decades," Hendrick noted at the 1980 HFS Annual Meeting held in Los Angeles. He cited new technology, such as the silicon chip, personal computers, automation, growing computer capacity, and other new materials such as fiber optics, as examples of a changing world.
Microergonomics, however, takes a less productive view.
"If you take a microergonomic approach and look at the research results over the years," Hendrick said, "successful programs tend to get a 10–25 percent improvement, whether it is in productivity or accident reduction. But when you get the macroergonomic level in there, and it is a true macroergonomic intervention, we normally see 50–90 percent improvement. Associated benefits include better productivity and quality, and improved job satisfaction and employee commitment."
"Good ergonomics," Dr. Hendrick further stated, "is good economics."
References and links:
Hal Hendrick reference: https://ergoweb.com/macroergonomics-is-better-economics-an-interview-with-the-late-hal-hendrick/
Biography link to Hal Hendrick (Imada):
https://www.hfes.org/web/DetailNews.aspx?ID=234